Skip to Content
Kentucky Small Business Helps Build Coronavirus Field Hospitals Nationwide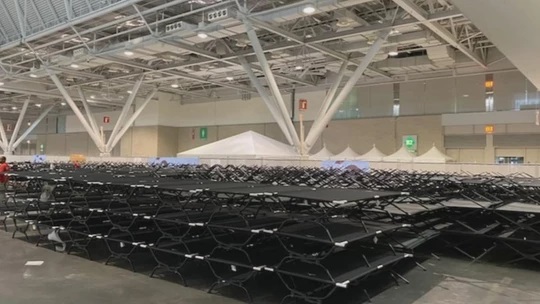 LOUISVILLE, Ky. (WDRB) — A company based out of Lexington has helped build several temporary field hospitals across the country in response to the COVID-19 pandemic.
Emergency Disaster Services, a logistics company that provides services and equipment to support utility and emergency crews during natural and man-made disasters all over the country,is adapting to provide its services in response to the coronavirus.
"We go in and build temporary man-camps to house, feed, provide laundry services, dining halls, showers, temporary restrooms so that the utility providers that come back in to put the power back up have a place to stay," said Alissa Tibe, the vice president of EDS. "When the pandemic hit about a month ago here in the United States, we repurposed some of those assets. We developed new materials and things that could help with the production of temporary field hospitals."
EDS has helped build eight field hospitals from Miami to Boston. The company has also provided equipment to hospitals in New York City and South Carolina. Tibe said every location has presented a different set of challenges.
EDS builds the infrastructure needed, then the hospital comes in to outfit and operate the facility. It varies how long each location takes to set up, but once the EDS crew gets all the equipment on-site, it takes about four days to set up before the facility is turned over to the hospital.
One of the temporary field hospitals being built is in Lexington. UK HealthCare is repurposing UK's Nutter Field House into a 400-bed facility.
Tibe, a life-long Lexington resident, has mixed feelings about building a field hospital that she calls home.
"To see our Nutter Field House — where our football team should be getting ready to train and practice for the fall — to have to take that huge space and have to cover 127,000 square feet of the field with temporary flooring and outfit it with 400 beds — it's bittersweet," she said. "It's a scary feeling. But it's nice to know that we can help."
Nutter Field House could not be transformed into a hospital without meeting high safety and quality standards. Crews installed medical-grade flooring that can be easily sanitized and cleaned. The walls are also easily collapsible in order to be regularly sanitized. And Tibe said hospitals must have a "negative pressure environment." So a special ventilation system was installed in order to make sure the air inside is at a lower pressure than what is outside, "to keep all the contaminants contained," Tibe said.
According to the University of Kentucky, the facility will also have the following:
Nebulizing station or area
Nurse stations, dedicated break rooms
Shower units with daily sanitization
Daily towel service, restrooms units, portable hand-washing stations
To make sure everything runs smoothly, Nutter Field House now has 70 to 80 miles of cable inside to connect all the computers.
The field hospital is not in use yet. The installation is being finalized this week, then UK HealthCare will make decisions about the staff needed to maintain the facility and any necessary training. A spokesperson said it will depend "on what the surge looks like" for leaders to determine how and if the hospital will be utilized.
Tibe is encouraging everyone, no matter how tiring or frustrating it might be, to stay strong and follow Gov. Andy Beshear's order to stay home and practice social distancing in order to help stop the spread of the virus.
The company has between 75 and 100 workers on the ground right now, working to build field hospitals. The crew's equipment is dispatched out of its facility in Maysville, while its headquarters is located in Lexington.
"It hits home when you see it right here in your backyard," Tibe said. "No one knows what this is going to bring because no one has done this before. So if we can all be patient and work with each other, we will come out and be victorious on the other side."